Reasons for consideration of a Special Rate Variation above the approved rate peg amount of 2.3%.
Over a number of years there have been various reports focusing on sustainability of local government.
This has culminated in a review commissioned for the NSW Treasury Corporation (a copy of this report is available on Council's website) to provide a financial sustainability rating for each NSW local government council.  These ratings ranged from distressed to very strong as shown below: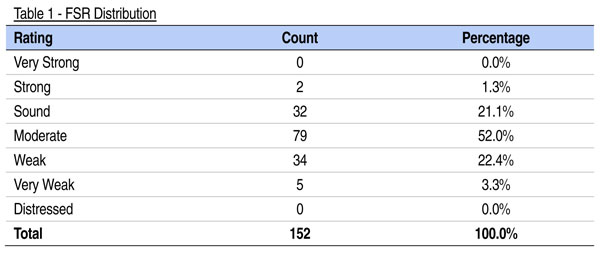 Gwydir Shire Council received a Very Weak rating.  This rating needs to be tempered somewhat by the realisation that it was based on our first attempt at the Integrated Planning and Reporting (IP&R) suite of documents, which included our first Long Term Financial Plan.  The introduction of IP&R was intended to start addressing the deteriorating position of local government by increasing focus on transparency, sustainability and improving community involvement.
The Local Government Review Panel based a number of their recommendations to improve local government on the above report.  The final report recommendations have not been made public, however they made a number of suggestions (some of which were quite controversial, including amalgamation recommendations), which included the need for Councils to maximise rate income and to tie additional grant funding to efforts councils make towards sustainability.  A copy of the draft discussion paper can be downloaded here
The Special Rate Variations proposed will form only one part of the puzzle aimed at improving Council's sustainability.  There is no magic silver bullet to improve sustainability – it will take considerable efforts across a range of areas to achieve the required outcome.
Other pieces of the puzzle include:
• Reviewing our service levels – are we providing the right mix of services at a price level that is acceptable for those services?
• Potential changes in distribution methodologies in Financial Assistance Grants, shifting more funds to those councils that genuinely need the assistance.  Financial Assistance Grants form an important component of funding for this Council and we are hopeful that we may see an increase in funding from this source.
• Improving asset management practices, including fine tuning depreciation calculations.  Due to the size of our asset base, even small improvements in accuracy can have significant effects on outcomes.
• Continuous improvement practices.  Reviewing our practices and gaining efficiencies means we can do more with less.  Because ours is a large, diverse organisation delivering a very large range of functions, ensuring all our practices are at peak efficiency is a challenge, but one Council takes seriously, by endeavouring practices as best we can.
The approved rate peg increase by the Independent Pricing and Regulatory Tribunal (IPART – who now determine the annual allowable increase) of 2.3% for the 2014-2015 year will equate to approximately $127,000 for Gwydir Shire.  The Special Rate Variations under consideration are a 5% increase resulting in approximately $276,000 additional revenue (this includes the 2.3% rate peg increase) and a 7.5% increase which would result in approximately $414,000 additional revenue (including the 2.3% rate peg increase) each year for two years.  This would compound in the second year so there would be some minor additional increase in year two.  More accurate estimates are being prepared, including how this will affect various ratepayers, and will be available for community consultation towards the end of January – early February 2014.
In recognition that Council does not want to place an unfair burden on ratepayers, it is anticipated the majority of the increase, at least in year one, can be offset by decreases in some Waste Charges (based on a new waste collection contract providing reduced costs) and potentially maintaining water and sewer charges at their current levels.  Please note that the reductions will mostly affect the major urban centres. Accurate details will be provided as they become available.
To put this into perspective, General Fund rates (which is where the increase is being sought) equated to less than 20% of Council's total revenues in the last financial year.  Furthermore, the consolidated operating result for Council was a loss of $5.3m for the same period, or a loss of $9.5m before capital grants.  Each of these is a measure taken into consideration in giving our 'very weak' sustainability rating.
This simply highlights the position stated above, that Council needs to address sustainability on a number of fronts to make any headway.
We would appreciate your feedback and would welcome your attendance at the proposed community meetings (see schedule below) where we will provide more accurate details of the proposed rating changes.
Max Eastcott
General Manager
The NSW Treasury Corporation report and Local Government Review Discussion paper, along with additional information regarding rate pegging, can be downloaded below:
Download below Presentations from the Gwydir Shire Community Meetings: