Introduction
I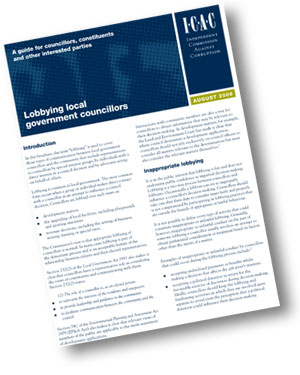 n this brochure, the term "lobbying" is used to cover those types of communication between local government councillors and the community that include representations to councillors by special interest groups, by individuals with a direct interest in a council decision and by advocates acting on behalf of others.
Lobbying is common in local government. The most common form occurs when a group or individual makes direct contact with a councillor in an attempt to influence a council decision. Councillors are lobbied over such issues as:
development matters
the upgrading of local facilities, including playgrounds
and sporting amenities
revenue decisions, including the setting of business,
mining, farming or special rates.
The Commission's view is that appropriate lobbying of councillors is normal. In many cases lobbying is part of the democratic process and is an acceptable feature of the relationship between citizens and their elected representatives.
Section 232(2) of the Local Government Act 1993 also makes it clear that councillors have a representative role in considering the views of constituents and communicating with them. Section 232(2) states:
(2) The role of a councillor is, as an elected person:
to represent the interests of the residents and ratepayers
to provide leadership and guidance to the community
to facilitate communication between the community and the council.
Section 79C of the Environmental Planning and Assessment Act
1979 (EP&A Act) also makes it clear that relevant views of members of the public are applicable to the merit assessment of development applications.
Interactions with community members are also a way for councillors to obtain information that may be relevant to their decision-making. In development matters, for example, the Land and Environment Court has made it clear that where council determines a development application, councillors should not rely exclusively on council officers to consider all matters relevant to the determination but must also consider the relevant matters themselves.