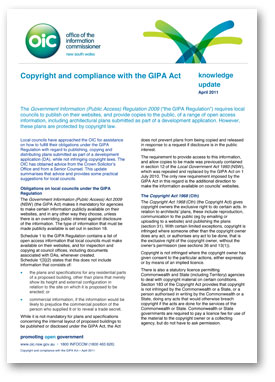 Government Information (Public Access) Act 2009
On 1 July, 2010, new right to information legislation came into effect, replacing the former Freedom of Information Act & Section 12 of the Local Government Act.  The new law:
Creates new rights to information that are designed to meet community expectations of a more open and transparent government.
Encourages government agencies to proactively release government information
Access to information collected and held at Gwydir Shire Council is made available in accordance with the provisions of the Government Information (Public Access) Act 2009 (GIPA). The Act creates an enforceable right to information unless there is an overriding public interest against disclosure.
The GIPA Act provides for Council information to be released in four (4) ways:
Mandatory Proactive Release (Open Access)
This information is made available on Council's website and is available free of charge. For example, council policies, meeting agendas and minutes, media releases and annual reports.
Proactive Release
Council is encouraged to make as much information of public interest as possible publicly available, free of charge or at minimal cost. For example, frequently requested information or information of public interest.
Informal Release
Other information held is authorised to be released in response to an informal request, subject to any reasonable conditions that Council may wish to impose. For example, requests for the personal information of the individual concerned but NOT another person's personal information. Written application forms are required for both Informal and Formal application.
Formal Release
The release of other information not made available by mandatory, proactive or informal release can be made by way of a formal access application. Standard fees and charges and time frames are applicable for such application. For example, personal information relating to a third party where consultation is required or where information is of confidential nature. Written application forms are required for both Informal and Formal applications.
You can find out more about your right to information and new ways to access NSW Government Information on the Office of the Information Commissioner (OIC) website. Enquiries relating to your application may be directed to Council's Administration Centre on (02) 67242000. 
---
Useful links
Office of the Information Commissioner website www.oic.gov.au
---
 .
Government Contracts
In accordance with Section 27 of the Government Information (Public Access) Act 2009 (GIPA), Council is required to maintain a register that records information about  each government contract which has (or is likely to have) a value of $150,000 or more.
Under Section 35 (2)(b) of the Act, Councils are not required to publish their contracts register on the e-tenders website, making this page the centralised location for all current contracts entered into by Council since 1 July 2010.
Contracts that must be included in the government contracts register are those between an agency and a private sector contractor for a value of $150,000 or more, and involve:
the contractor undertaking a specific project such as construction, infrastructure or property development
the contractor agreeing to provide specific goods or services
the transfer or lease of real property.
Different classes of contracts
The Act provides for three different classes of contracts, each with different information disclosure requirements:
Class 1 contracts are those that have, or are likely to have, a value of $150,000;
Class 2 contracts are class 1 contracts where:

there has not been a public tender process and the terms and conditions of the contract have been negotiated directly with the contractor, or,
the contract was the subject of a tender (whether public or not) but the terms and conditions have been substantially negotiated with the contractor;
the obligations of one or more parties to maintain or operate infrastructure or assets could continue for 10 years or more, and,
the contract involves a privately financed project (as defined by Treasury) or the exchange of significant assets.

If a class 2 contract has a value, or likely value of more than $5 million, it becomes a class 3 contract. Agencies must publish a copy of a class 3 contract on the register of government contracts.
Download contract register
Legislative Compliance Register
Council must meet many legislative requirements.  These are listed in Council's Legislative Compliance Register.  Included in the Register is a record of whether the requirements are met in a timely manner.
2020 Gwydir Shire Council Legislative Compliance Register pdf