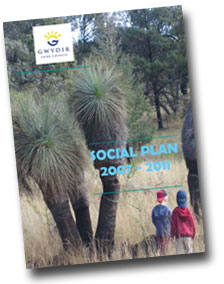 EXECUTIVE SUMMARY
The Social Plan is being developed in response to the Local Government (General) Amendment (Community and Social Plans) Regulation 1998 that requires all Councils in New South Wales to develop a Social or Community Plan every five years. Local government is also required to provide an annual summary of activities recording its implementation of the Social Plan within the Access and Equity statement of the Management Plan.
Social planning is considered to be a vital corporate tool to provide Council with a strategic planning framework to guide Council in the provision of appropriate and accessible services and facilities to meet the social needs of people within Gwydir in a fair and equitable manner. It is envisaged that the Social Plan will increase accountability, guide the future development of the community and assist effective partnerships with other Government and non-Government agencies.
The Social Plan is a product of a systemic process that identifies community need, prioritizes actions and develops programs, projects and activities to deliver outcomes that will enhance the well-being of the community. The requirement for Local Government to develop Social Plans grew out of the 1996 NSW Social Justice directions Statement "Fair Go, Fair Share, Fair Say" which committed the Department of Local Government to ensuring government services are
responsive to community needs and diversity.
The regulation is designed to:
Improve Council's ability to take account of community needs when formulating their management plans;
Assist Council to provide or advocate for appropriate and accessible services/facilities;
Increase the community's ability to monitor council's efforts in addressing community needs over time.
The social plan has involved service providers in the community, liaison with
government departments and consultation with the community.
Click here to download the Gwydir Shire Council Social Plan (pdf 2.3MB)