"We are becoming much more efficient but will still need a rate rise"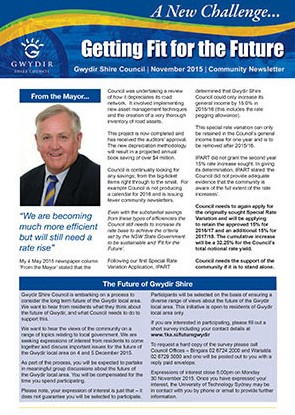 My 4 May 2015 newspaper column 'From the Mayor' stated that the Council was undertaking a review of how it depreciates its road network. It involved implementing new asset management techniques and the creation of a very thorough inventory of road assets.
This project is now completed and has received the auditors' approval. The new depreciation methodology will result in a projected annual book saving of over $4 million.
Council is continually looking for any savings; from the big-ticket items right through to the small. For example Council is not producing a calendar for 2016 and is issuing fewer community newsletters.
Even with the substantial savings from these types of efficiencies the Council still needs to increase its rate base to achieve the criteria set by the NSW State Government to be sustainable and 'Fit for the Future'.
Following our first Special Rate Variation Application, IPART determined that Gwydir Shire Council could only increase its general income by 15.0% in 2015/16 (this includes the rate pegging allowance).
This special rate variation can only be retained in the Council's general income base for one year and is to be removed after 2015/16.
IPART did not grant the second year 15% rate increase sought. In giving its determination, IPART stated 'the Council did not provide adequate evidence that the community is aware of the full extent of the rate increases'.
Council needs to again apply for the originally sought Special Rate Variation and will be applying to retain the approved 15% for 2016/17 and an additional 15% for 2017/18. The cumulative increase will be a 32.25% for the Council's total notional rate yield.
Council needs the support of the community if it is to stand alone.