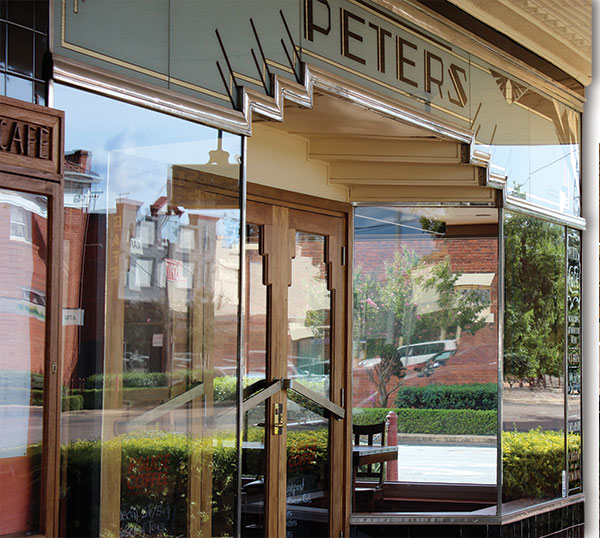 The Roxy Café – Fully Restored to its Former Glory
The story of the Greek Café is a shared chapter in the histories of Greece and Australia, a chapter that is almost over. Very few Greek cafes operate as they did 50 years ago. The Roxy may be the last example of an interwar cinema and café remaining in Australia
Greek Cafes changed the course of Australia's cultural history and left a significant legacy on our culinary and cultural landscape. The Roxy is a symbol that epitomises the Greek migration experience: one that made an outstanding contribution to the development of Australia. It is important that this story be shared with future generations.
The Roxy has become a place of great historical significance that exhibits local distinctiveness and a sense of place. Its civic pride and confidence in its heritage, in its cultural facilities and collections attracts people from all walks of life, all wanting to share this unique experience.
Oasis of Opportunity Awaits – EOI are now open for the lease of this unique and iconic café.
The Roxy complex is a magnificent example of an interwar cinema and café, and one of only a few remaining in Australia today.
The Roxy allows visitors to experience an era when Greek Cafes were synonymous with rural life in Australia; architecture reflected the glamour and grandeur of 1930s Hollywood and customer services was king.
Today the Roxy Café continues to be a hub of the Bingara community providing local hospitality, employment and training opportunities through the Trade Training Kitchen located at the rear of the building; supporting the entertainment and conferencing activities of the adjacent theatre and meeting rooms; and promoting the local food economy through local producers and links to the innovative 'Living Classroom' project.
The café has become an important part of the community and of "destination Bingara" and provides visitors from near (Approximately 186,000 people live within 2 hours) and afar with a unique and memorable experience.
The Gwydir Shire Council is seeking expressions of interest from groups or individuals willing to build the Roxy Café business to its full potential, and help make the Roxy complex an iconic regional destination.
The ideal candidate is experienced, adventurous and excited by the whole food story – the growing, cooking and eating of fresh local food. They appreciate what a small country community has to offer, and they are deeply involved with it. They are also motivated by the many opportunities which Bingara's collection of community assets offers:
The Living Class Room – An opportunity to engage with local producers and source readily available local produce and the ability to participate in the growing and marketing of local food.
The Roxy Complex – A regional entertainment, event, function and conferencing hub and destination restaurant.
Trade Training Kitchen – The ability to grow your own talent and help address regional hospitality skills shortage through the facilitation of training.
If you are excited by this opportunity please contact Georgia Standerwick on 0409 901 540 for more information.
Click here to download the Expression of Interest
Visit www.roxybingara.com.au for further information about the Roxy