April Art Exhibition – Ceramic Break Sculpture Park
April 27, 2019 @ 12:00 pm

-

5:00 pm

gold coin donation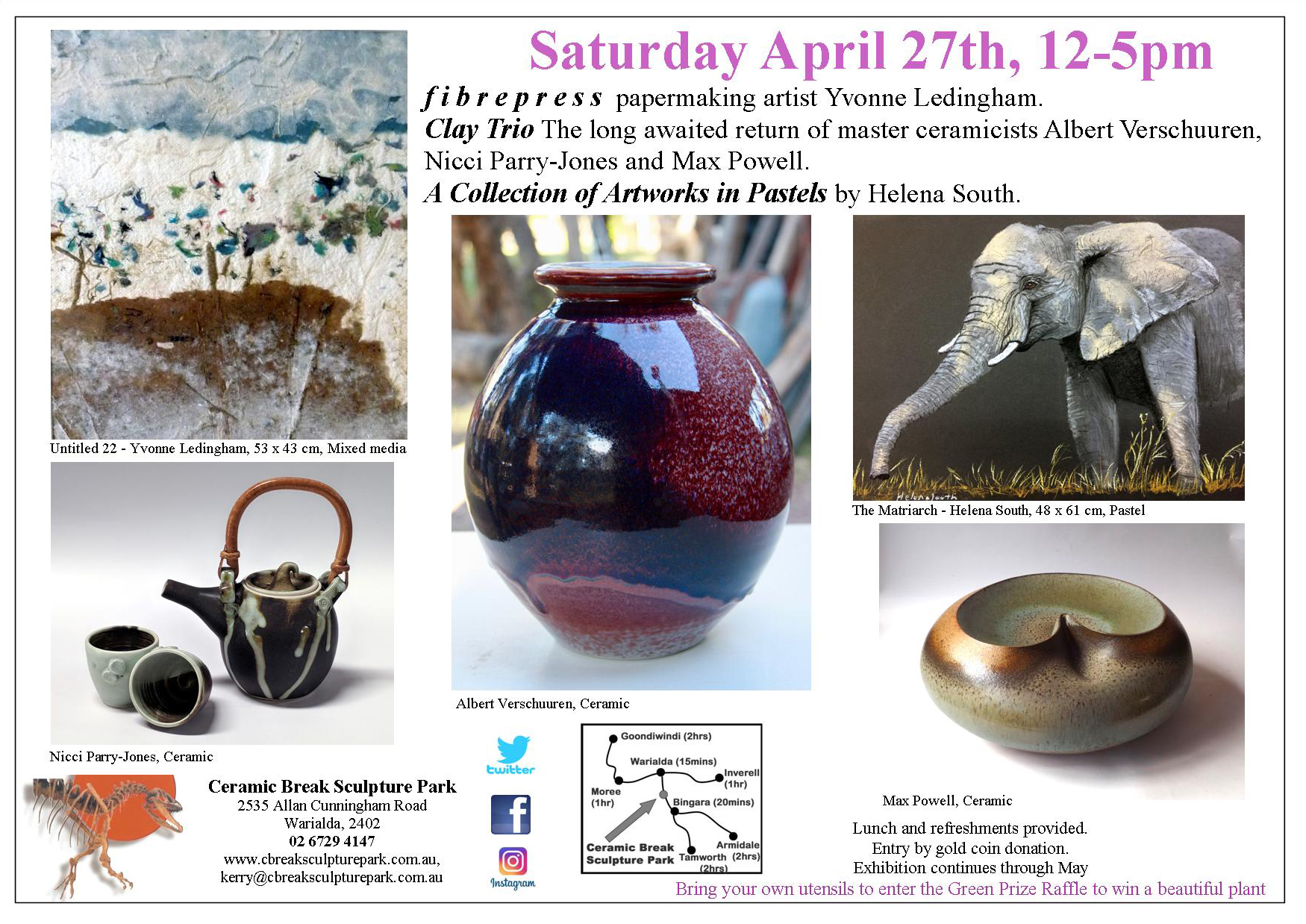 Now that the weather is finally behaving itself and if you like Beauty, exercise and lunch, visit Ceramic Break Sculpture Park on Saturday April 27th at 12 noon for our first Art Show of 2019.
For the last 4 months  local paper maker Yvonne Ledingham has been our Artist in Residence and she will be exhibiting her beautiful and elegant creations in 'fibrepress' a collection of work created for this exhibition. It is incredible how paper and rags in the hands of an expert,  can be transformed into beautiful and elegant Art.
For those who enjoy Art that is both beautiful and functional, Clay Trio, the work of our three ceramicists that includes vases, bowls and tea pots, will delight.  Albert Verschuuren, Nicci Parry-Jones and Max Powell have exhibited here before and their work can be found in many  homes in the district.  Albert uses locally sourced raw materials  ; Nicci's work is colourful and whimsical, with a touch of quirky thrown in; Max is inspired by the natural world and he mixes seasonal feelings and stories into his clay.
Helena South has been painting since 1976 and this is her first show at Ceramic Break Sculpture Park.  She loves animals, big and small and this can be seen in ' A Collection of Artworks in Pastels' her sensitive and sometimes humorous depictions.
This show at Ceramic Break Sculpture Park on the Warialda/Bingara Road is not to be missed. Starting at 12 noon, entry is by gold coin donation and lunch and refreshments are provided. Any questions call 02 6729 4147, check out our website, www.cbreaksculpturepark.com.au or our Ceramic Break Sculpture Park Facebook page. Remember to bring utensils to enter the Green Prize Raffle and you may win a beautiful plant to take home.