GIPA Act fees and charges
Fact sheet 
The Government Information (Public Access) Act 2009 (GIPA Act) aims to foster and promote responsible and representative government that is open, accountable, fair and effective by:
authorising and encouraging the proactive public release of government information by agencies, and
giving members of the public an enforceable right to access government information, and
providing that access to government information is restricted only when there is an overriding public interest against disclosure.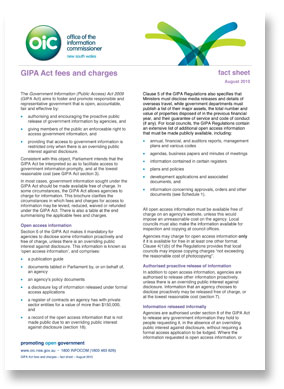 Consistent with this object, Parliament intends that the GIPA Act be interpreted so as to facilitate access to government information promptly, and at the lowest reasonable cost (see GIPA Act section 3).
In most cases, government information sought under the GIPA Act should be made available free of charge. In some circumstances, the GIPA Act allows agencies to charge for information. This brochure clarifies the circumstances in which fees and charges for access to information may be levied, reduced, waived or refunded under the GIPA Act. There is also a table at the end summarising the applicable fees and charges.
Download the full Fact Sheet by clicking here

Download a Public Access Application Form by clicking here
Office of the Information Commissioner website www.oic.nsw.gov.au.