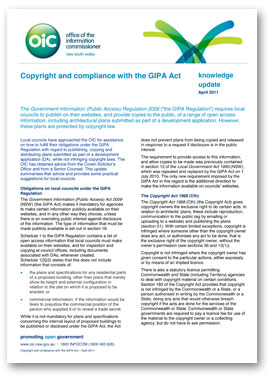 The Government Information (Public Access) Regulation 2009 ("the GIPA Regulation") requires local councils to publish on their websites, and provide copies to the public, of a range of open access information, including architectural plans submitted as part of a development application. However, these plans are protected by copyright law.
Local councils have approached the OIC for assistance on how to fulfill their obligations under the GIPA Regulation with regard to publishing, copying and distributing plans submitted as part of a development application (DA), while not infringing copyright laws. The OIC has obtained advice from the Crown Solicitor's Office and from a Senior Counsel. This update summarises that advice and provides some practical suggestions for local councils.
Obligations on local councils under the GIPA Regulation
The Government Information (Public Access) Act 2009 (NSW) (the GIPA Act) makes it mandatory for agencies to make certain information publicly available on their websites, and in any other way they choose, unless there is an overriding public interest against disclosure of the information. The type of information that must be made publicly available is set out in section 18.
Schedule 1 to the GIPA Regulation contains a list of open access information that local councils must make available on their websites, and for inspection and copying at council offices, including documents associated with DAs, whenever created. Schedule 1[3](2) states that this does not include information that consists of:
the plans and specifications for any residential parts of a proposed building, other than plans that merely show its height and external configuration in relation to the site on which it is proposed to be erected; or
commercial information, if the information would be likely to prejudice the commercial position of the person who supplied it or to reveal a trade secret. While it is not mandatory for plans and specifications concerning the internal layout of proposed buildings to be published or disclosed under the GIPA Act, the Act does not prevent plans from being copied and released in response to a request if disclosure is in the public interest.
The requirement to provide access to this information, and allow copies to be made was previously contained in section 12 of the Local Government Act 1993 (NSW), which was repealed and replaced by the GIPA Act on 1 July 2010. The only new requirement imposed by the GIPA Act in this regard is the additional direction to make the information available on councils' websites.
Download the full document by clicking on this link (pdf 88.7KB)